Basilica of St. George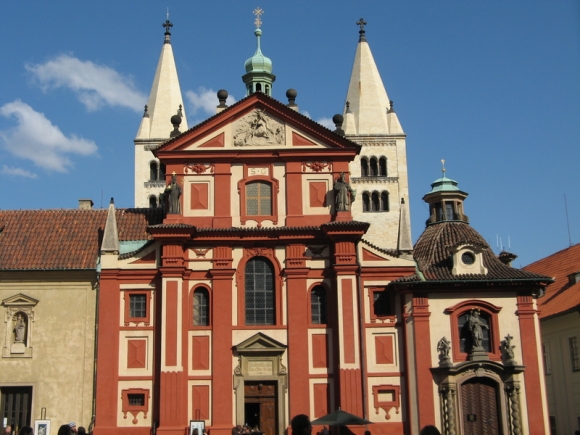 INFORMATION & DETAILS
Address
Prague Castle, Prague 1
Opening Hours
Premises requiring tickets - daily 9.00 -18.00
Entrance Fees
Premises requiring tickets.
Prague Castle long visit full admission: 350 CZK
The St George's Basilica is the second oldest church inside of the Prague Castle complex. It was founded in 920; in 973 when the neighboring Benedictine convent was founded, the church was extended. The St George's Convent was the first monastery in the Czech lands to be ever founded. However, in 1142 it was heavily damaged in a fire, but again not only reconstructed but extended. In this time the basilica got its white spires. The church survived the gothic and Renaissance periods only with minor alternations, however, in the baroque period the basilica received a new façade and statues on its western wall in the 17th to math with the style of the façades of the palaces of Prague Castle. In the 18th century the most recent part, Chapel of St John of Nepomuk, was added. In the end of the 18th century the Convent of St George was shut down, but the church is still active until nowadays.
Tour sights
Strahov Monastery
Schwarzenberg Palace
Hradcany Square
St. George Basilica
Castle Gardens
Breathtaking Viewpoint
Nerudova Street
St. Nicholas Church
Infant Jesus of Prague
Knights of Malta
Lennon´s Wall
Kampa Island
Certovka Canal
Charles Bridge
Mozart & Prague
King´s Coronation Way
Old Town Bridge Tower
Carolinum
Old New Synagogue
Former Jewish Town Hall
Jewish Ceremonial Hall
Pinkas Synagogue
Paris Street
Franz Kafka House