Golden Lane with Daliborka Tower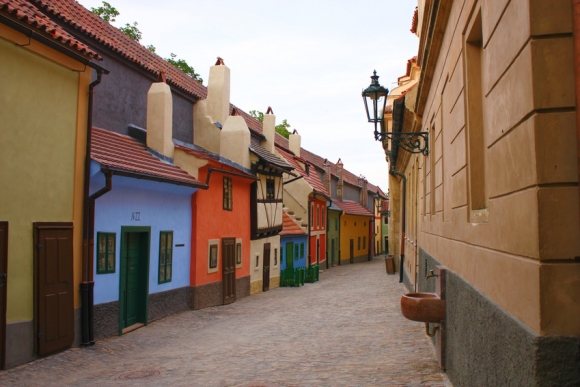 INFORMATION & DETAILS
Address
Prague Castle, Prague 1
Opening Hours
Premises requiring tickets - daily 9.00 -18.00
Entrance Fees
Premises requiring tickets.
Prague Castle long visit full admission: 350 CZK
The Golden Lane is one of the most magical places in Prague. The street got its name from the legend that alchemists who were trying to make gold lived here, however, this is only a legend. The street dates back to the 15th century when the Prague castle got its fortification. As a result of building the new fortification walls, a narrow lane was created in between the old and new walls and the retainers serving at the Prague Castle started building little provisional shelters in between the walls. Their shelters were destroyed in the great fire of Prague in 1541, however, in 1597 the marksmen started building their little houses in the street. The new inhabitants were not allowed to make windows on the other side, so that the fortification of the Castle would stay in tack. The marksmen and their families lived in the little houses until the 1780´s when the brigades were abolished and they had to move out. In that time the lane got inhabited mainly by artisans and later by the poor. The place started to be very popular at the beginning of the 20th century among artists who were coming to stay in the houses to seek inspiration. Probably the most famous of them was Franz Kafka who stayed in the House no. 22. His sister Ottla owned this house and Franz was coming here after work to write. The present appearance of the Golden Lane comes from the 1950´s when the houses got their typical colorful façades and one row of the buildings was torn down to make more space for the visitors. In 2010 the lane had undergone a new reconstruction that brought the houses closer to their original purposes. In the majority of the houses are expositions showing the life in the tiny buildings and their former inhabitants. The Daliborka Tower is situated at the very end of the lane and was also a part of the gothic fortification of the Prague Castle. It served mainly as a prison and is named after its first prisoner, Dalibor of Kozojedy, of whom the legend says that he learned to play the violin excellently while being imprisoned here.
Tour sights
Strahov Monastery
Schwarzenberg Palace
Hradcany Square
St. George Basilica
Castle Gardens
Breathtaking Viewpoint
Nerudova Street
St. Nicholas Church
Infant Jesus of Prague
Knights of Malta
Lennon´s Wall
Kampa Island
Certovka Canal
Charles Bridge
Mozart & Prague
King´s Coronation Way
Old Town Bridge Tower
Carolinum
Old New Synagogue
Former Jewish Town Hall
Jewish Ceremonial Hall
Pinkas Synagogue
Paris Street
Franz Kafka House