Old Jewish cemetery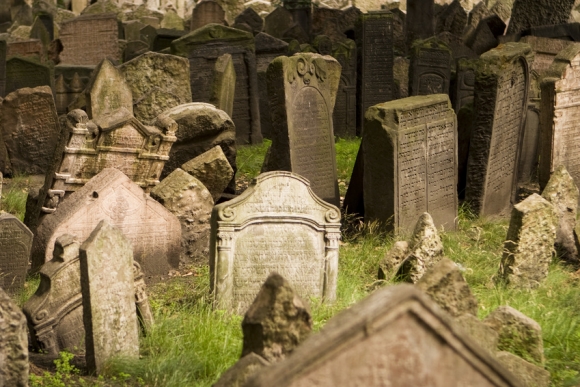 INFORMATION & DETAILS
Address
Siroka 3, Prague 1
Opening Hours
Winter opening times 9 am - 4.30 pm
Summer opening times 9 am - 6 pm
The museum is open every day except Saturdays and Jewish holidays.
Entrance Fees
The Jewish Museum in Prague Adults - 300 CZK
Under 15s and students - 200 CZK
Under 6s - free Family (2 adults + up to 4 children, Under 6s - free): per adults 300 CZK, per child 150 CZK
Tickets valid for the Robert Guttmann Gallery
The Old Jewish Cemetery was founded in the 15th century as a compensation for the closed former burial ground which was situated in the New Town of Prague. The oldest known tombstone on the cemetery comes from 1439 and belonged to the Rabbi Avigdor Kara. Nowadays you can find nearly 12,000 tombstones on the cemetery; however, the estimate of the number of burials on the ground is close to 100,000 as the bodies were buried in layers to compensate for the lack of space. At the most popular places, there are up to 12 layers of bodies piled above each other. Because of the bad hygiene situation around the area, the cemetery was closed in 1787. Despite that, it is the second oldest Jewish cemetery in Europe.
Tour sights
Strahov Monastery
Schwarzenberg Palace
Hradcany Square
St. George Basilica
Castle Gardens
Breathtaking Viewpoint
Nerudova Street
St. Nicholas Church
Infant Jesus of Prague
Knights of Malta
Lennon´s Wall
Kampa Island
Certovka Canal
Charles Bridge
Mozart & Prague
King´s Coronation Way
Old Town Bridge Tower
Carolinum
Old New Synagogue
Former Jewish Town Hall
Jewish Ceremonial Hall
Pinkas Synagogue
Paris Street
Franz Kafka House