Old Town Hall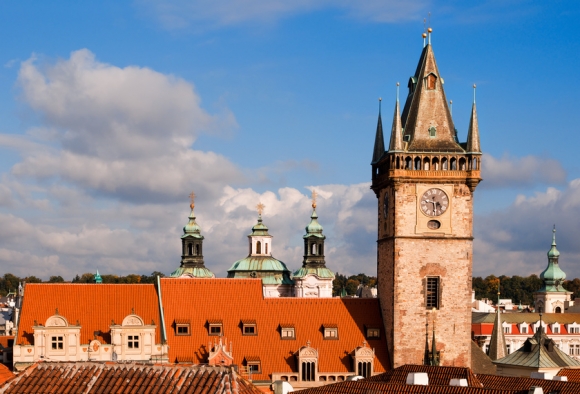 INFORMATION & DETAILS
Address
Staromestske Namesti 1/3, Prague 1
Opening Hours
January - December:
Halls: Mon 11 - 18, Tue - Sun 9 - 18
Tower: Mon 11 - 22, Tue - Sun 9 – 22
Selling tickets finishes 30 minutes before closing time.
Entrance Fees
Adults 105 CZK
Children from 6 to 15 years of age; students from 15 to 26 years of age (upon showing the valid proof of study; retired people from 65 years of age) 55 CZK
Children to 6 years of age; disabled; people with a health handicap and ZTP, ZTP+P card holders 25 CZK
Family entrance fee (no more than 2 adults + up to 4 children to 15 years of age) 210 CZK
The privilege to found a town hall was granted to the Old Town in 1338, in the same year the first building of the Town Hall was purchased, the building of the Wolfing of the Stone to which they later build the tower with the Astronomical Clock. Around 1360 the neighboring building was build, the middle one, belonging to the fur maker Miks was bought the 15th century and the last two buildings, the house At the Cock and At the Minute, were connected to the Town Hall. In the 19th century a new neo-gothic wing going to the other side of the square was build, however, nowadays you can see only a part of the ruins of this building as it was destroyed at the end of WWII. The mayoral assembly room is the most important room in the complex and is as well the worthiest sight of the Town Hall. The original Renaissance ceiling form the 16th century together with the statue of Christ the Sufferer from 1410 are the most important artifacts in this room. Two further rooms are situated on the 2nd floor: George's hall and Brožík´s hall. George's hall is called after the Czech king Jiří (George) of Poděbrady whose statue is situated here. Brožík´s hall is called after the author of the two large paintings in this room Václav Brožík. The room is being used as an assembly hall.
Tour sights
Strahov Monastery
Schwarzenberg Palace
Hradcany Square
St. George Basilica
Castle Gardens
Breathtaking Viewpoint
Nerudova Street
St. Nicholas Church
Infant Jesus of Prague
Knights of Malta
Lennon´s Wall
Kampa Island
Certovka Canal
Charles Bridge
Mozart & Prague
King´s Coronation Way
Old Town Bridge Tower
Carolinum
Old New Synagogue
Former Jewish Town Hall
Jewish Ceremonial Hall
Pinkas Synagogue
Paris Street
Franz Kafka House