Powder Gate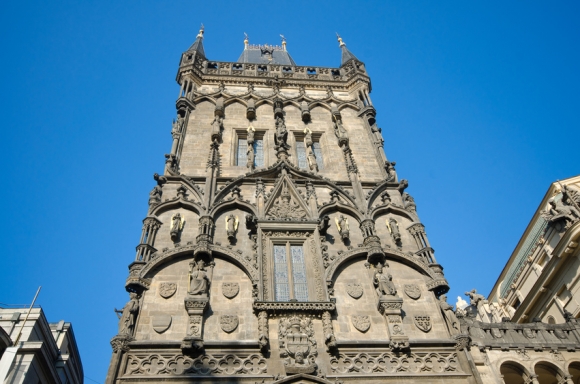 INFORMATION & DETAILS
Address
Na Prikope, Prague 1
Opening Hours
October, March: Mon - Sun 10 - 20
November - February: Mon - Sun 10-18
April - September: Mon - Sun 10 - 22
Selling tickets finishes 30 minutes before closing time.
Entrance Fees
Adults 75 CZK
Children from 6 to 15 years of age; students from 15 to 26 years of age (upon showing the valid proof of study; retired people from 65 years of age 55 CZK
Children to 6 years of age; disabled; people with a health handicap and ZTP, ZTP+P card holders (impaired working capacity), press people 25 CZK
Family entrance fee (no more than 2 adults + up to 4 children to 15 years of age) 210 CZK
In the past the Old Town of Prague had its fortification walls and many watch towers, which were also used as entrances to the town. On the place of the today's Powder Gate stood an older tower, however, in 1457 it was decided that this one should be replaced by a magnificent new tower; however, the tower was never finished in the middle ages and therefore had no real function until the half of the 18th century, when it was used as a storage place of gun powder – hence its name Powder Gate (before it was called New Gate). The tower finally got finished and reconstructed at the end of the 19th century by Josef Mocker. The Old Town Bridge Tower served as the model for the reconstruction, during the reconstruction the statues or rulers were added to the tower.
Tour sights
Strahov Monastery
Schwarzenberg Palace
Hradcany Square
St. George Basilica
Castle Gardens
Breathtaking Viewpoint
Nerudova Street
St. Nicholas Church
Infant Jesus of Prague
Knights of Malta
Lennon´s Wall
Kampa Island
Certovka Canal
Charles Bridge
Mozart & Prague
King´s Coronation Way
Old Town Bridge Tower
Carolinum
Old New Synagogue
Former Jewish Town Hall
Jewish Ceremonial Hall
Pinkas Synagogue
Paris Street
Franz Kafka House