Clementinum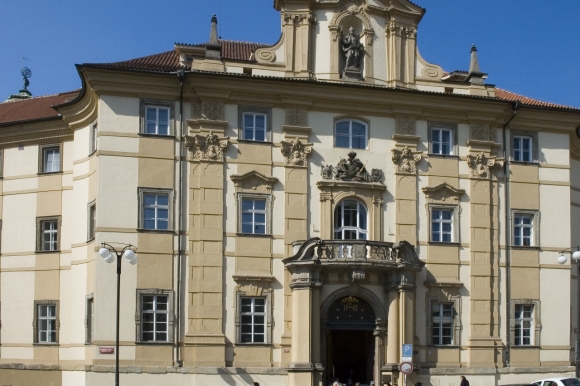 INFORMATION & DETAILS
Address
Karlova 1, Prague 1
Opening Hours
March:
Mon – Sun: 10 a.m. – 4 p.m.
April - October:
Mon – Sun: 10 a.m. – 5 p.m.
November, December:
Mon – Sun: 10 a.m. – 4 p.m.
till January 10th 2013:
Mon – Sun: 10 a.m. – 4 p.m.
The Clementinum used to serve as the centre of the Jesuit order in the Old Town of Prague and until now it is the second largest complex of buildings in the city. On the place where the complex stands, there used to be an old Dominican friary with the church of St Clement – hence the name Clementinum. However, when the Jesuits arrived in Prague in 1556 they were given this place and the Dominican had to move to today's Jilská Street. The contraction of the complex spans throughout centuries and the best Czech and Italian architects living in Prague took part in it. The Clementinum consisted not only of the old church of St Clement, but of the newly build Church of the Holy Saviour, three chapels, a printing work, schools and residential areas, and also libraries. When the Jesuits were expelled in 1773, the complex was taken over by the National Library and the Academy for Further Education, where many significant Czechs studied. The Academy ended its work in 1883; in 1928-1930 the complex was modernized for the needs of the National Library. Apart from the library premises, visitors can visit the Clementinum gallery, with an exhibition or rare books or take a tour though the Jesuit library, the Mirror Chapel and climb up the Astronomical tower of the Clementinum.
Tour sights
Strahov Monastery
Schwarzenberg Palace
Hradcany Square
St. George Basilica
Castle Gardens
Breathtaking Viewpoint
Nerudova Street
St. Nicholas Church
Infant Jesus of Prague
Knights of Malta
Lennon´s Wall
Kampa Island
Certovka Canal
Charles Bridge
Mozart & Prague
King´s Coronation Way
Old Town Bridge Tower
Carolinum
Old New Synagogue
Former Jewish Town Hall
Jewish Ceremonial Hall
Pinkas Synagogue
Paris Street
Franz Kafka House